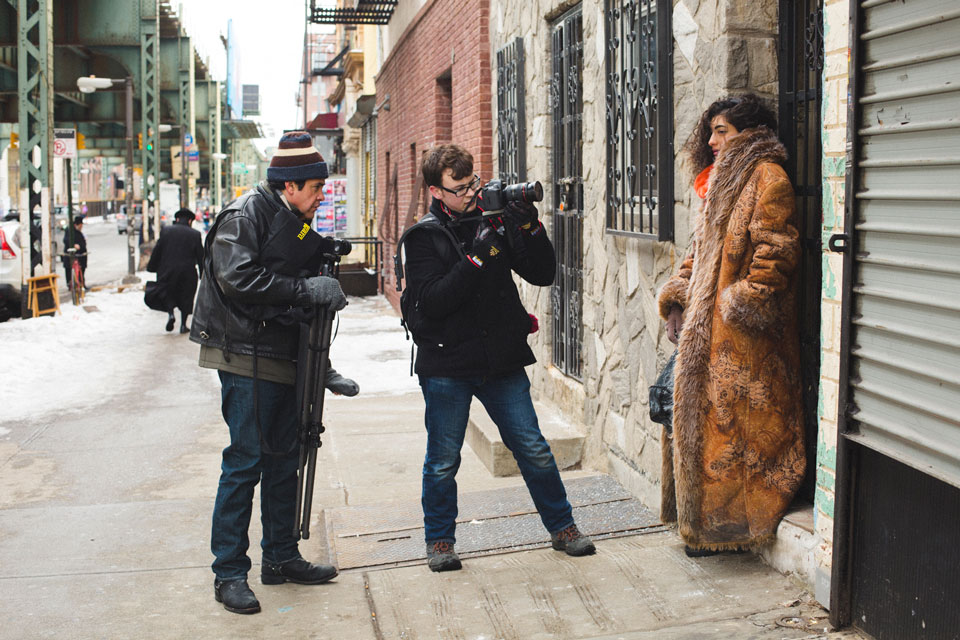 (Shooting The F Word on the streets of Brooklyn with the artist Sadaf and cinematographer Calvin Falk)
He is a master of fine arts and it's not just a qualification. Robert Adanto is a producer-director and documentary filmmaker focused on contemporary art with 14 years of filmmaking experience, has an MFA in Acting from NYU Tisch School of the Arts and a background in theater that he attributes to anchoring his digital storytelling
During his career, he has had a front row seat to the way various aspects of film have been transformed with the influence of digitalization – be it shooting, editing, marketing or distribution. As a professional, he works internationally and continually journeys the path less traveled: searching for artists and areas that he feels he too can learn from and also from backgrounds that are not as popular.
His films examine contemporary art produced in times or places of uncertainty and disruption: whether they are digital photographers and video artists living in a China adapting to changes in social culture (The Rising Tide – 2008), Iranian female artists working during a turbulent political period in their country (Pearls on the Ocean Floor – 2010), victims affected by Hurricane Katrina using their art to re-emerge and find balance in life (City of Memory – 2014), maverick "4th Wave" feminist performance artists making an impression in the US and abroad (The F Word – 2015) or the narration through performance art of one woman's struggle to transcend violence and abuse (Born Just Now – 2018).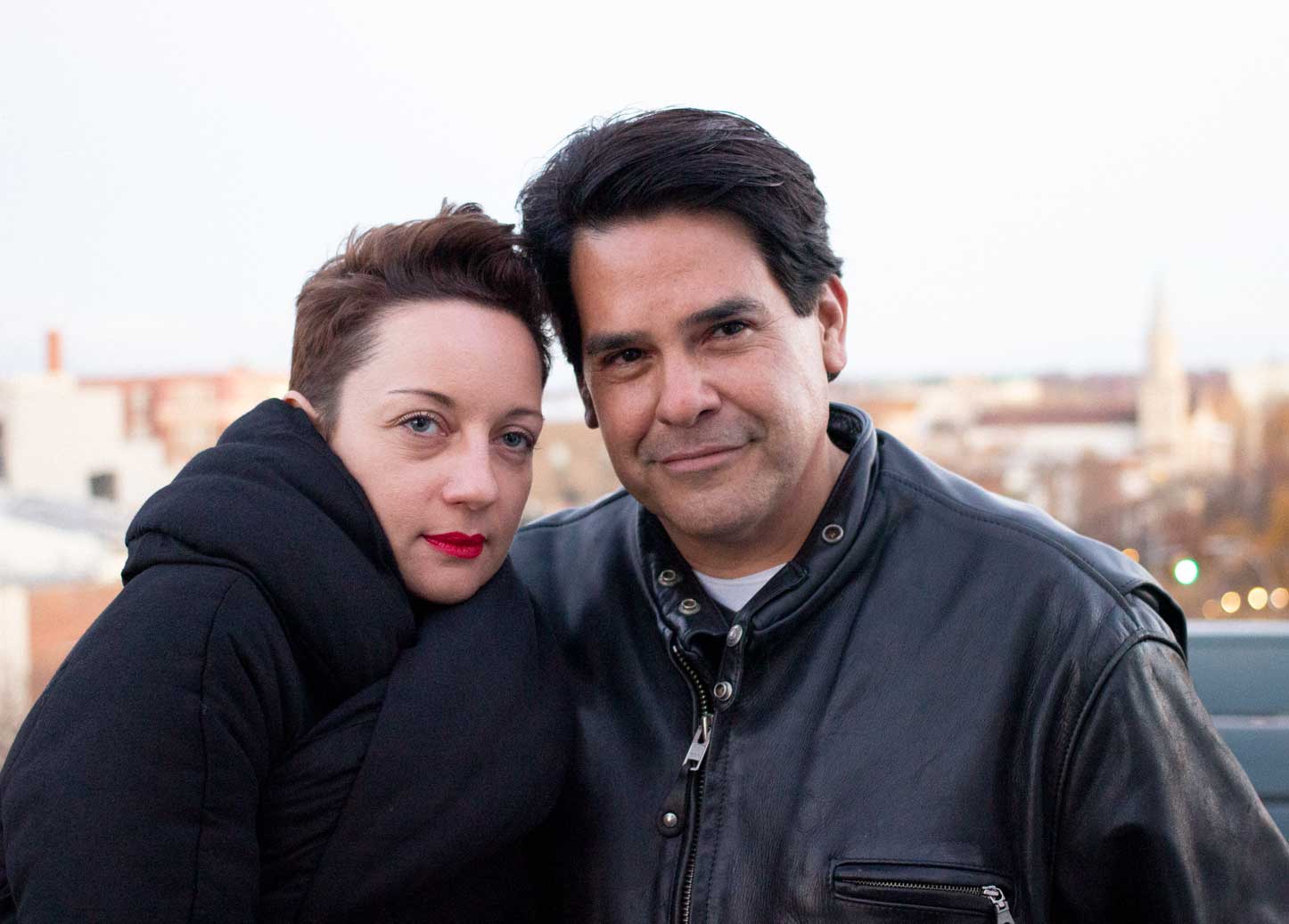 (Marta Jovanović and director Robert Adanto in New York City. (Photo by Daniel Cole-Parés))
StageYou: When it comes to the growth of the digital revolution, what forms of reshaping have you seen in the film field during your career?
ROBERT: I have seen dramatic changes since I began my documentary work in 2005. I recall that in my first two documentaries, although shot with some of the first HD digital cameras, the footage was still recorded on tape initially. It was only in 2010 that I began recording directly to SD memory cards.
That stands in stark contrast to filmmakers nowadays who can create full-length films using an iPhone and the iMovie software. It just shows that as a result of the digital revolution, entering into the film field is not as difficult or as expensive as it used to be back in the day. Although I do not shoot this way, I have had the advantage of using digital software such as Adobe Premiere to edit sound, colour, etc. instead of dealing with actual film stock.
I also learned a great deal about these new technological advances teaching Film and TV Production students at Nova Southeastern University in Fort Lauderdale, Florida, which I did for 4 years. I never went to film school myself and had been hired to teach theatre and documentary but when a colleague retired, I was given the responsibility of heading the program, which ended up being a gift, as it forced me to really learn all the technical aspects of filmmaking.
Digitalization has also brought about other advantages in terms of sharing material- for instance we can now share photographic and video files through WeTransfer or Dropbox. This consequently reduces the risk of damage during transport and also increases the simplicity to take safety backups, both of which were arduous tasks for filmmakers some time ago.
Distribution is also another area that has experienced a great deal of change. With entities like Netflix, Amazon Prime, and Hulu, we are experiencing a whole new era in the way we watch films. There are, of course, still people who are very interested in preserving the tradition of going to the theater to watch a film, and this is something that I feel I must do myself, but it is my view that today not every film is made for the big screen. Some work better on the small screen, be it a TV, mobile device, or even when watching while sitting in a plane.
StageYou: As a seasoned filmmaker, someone whose films have been presented at over 40 international festivals, could you explain and educate younger artists on what it is like to get a screening at a festival?
ROBERT: Today, there are platforms like FilmFreeway where you can submit your films for festivals to review and this can often be a springboard to getting into both smaller and larger festivals. You can create a profile for each of your films so that people can learn about them and see the trailers.
If you feel that one of your films is a match to one of the festivals then you can apply to that one sensibly instead of blindly applying to every festival – which can become expensive. If you have a film with a unique story and think that it can play at Sundance, which is one of the most important festivals in the world, then by all means apply and if it does work out and the right people see it then it can really make your career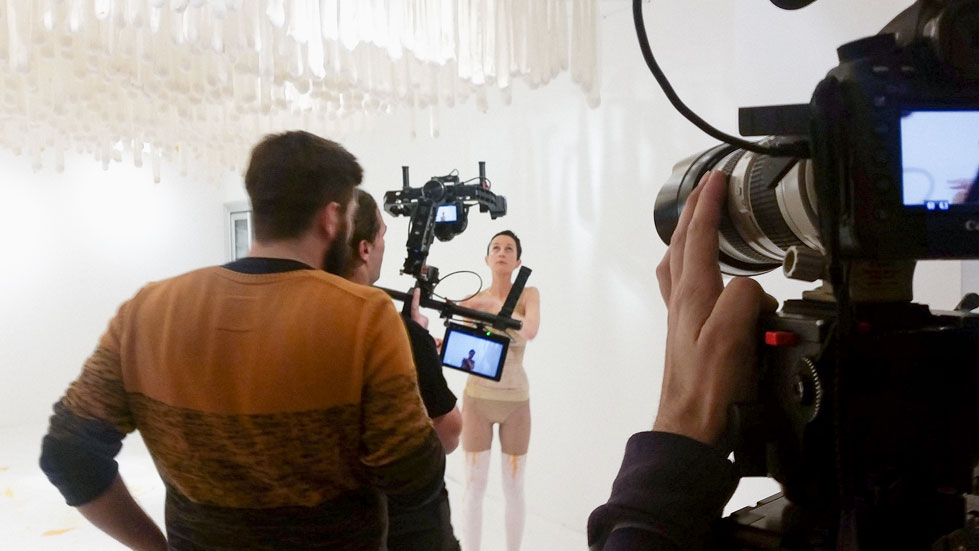 (Photographer Wang Qingsong, one of the featured artists in Robert Adanto's debut documentary The Rising Tide (2008))
StageYou: Along with overcoming logistical barriers, would you agree that digitalization is democratizing education and increasing the accessibility for anyone to use today's digital tools to realize their dreams through learning on demand?
ROBERT: Absolutely. Digitalization is certainly addressing the barriers and restrictions on education. For instance, Lynda.com and Youtube offer courses and tutorials on using software such as Adobe Premiere or iMovie. In today's situation, you can look up something as specific.
as 'How to correct audio hiss with Premiere' and find videos where someone explains what you can do to rectify it.
Another example of breaking educational barriers is the case of the Chinese filmmaker Jia Zhangke – a winner of several awards and considered one of the world's best filmmakers. He interestingly was not accepted in to the film academy in China because his family's social class and background were not deemed suitable. Officials instead allowed him to study film theory, which led him to watch and study all that he could find on the internet, especially the work of great film directors. Eventually, he was given entry into the film academy, but only after he made and submitted some of his own films. This exemplifies that with a dream, passion and drive, everything you need to learn is available through the internet.
This occurred with my own filmmaking. I was fortunate in that the first film I made (about Chinese contemporary artists) I was able to research and read about everything that was going on in contemporary art in cities like Beijing and Shanghai. By virtue of this, when the film was finished, I was invited to present The Rising Tide at museums and exhibitions all over the world because my film featured several important emerging artists like Cao Fei, Xu Zhen and Wang Qingsong.
There are of course still hurdles to overcome including getting financing, but armed with a good story and knowledge you can do quality work which gets noticed, gets into international festivals, wins awards, and gets recognized. It's about the right people seeing your work, so that things move forward.
StageYou: Do you utilize digitalization tools such as online film festivals and web platforms to promote your work and if so, do you opt to have it available to a large general audience or prefer to offer it to a smaller yet targeted one?
ROBERT: Yes, there are several actually and there is one that I have submitted to which was called Films of the Southeast. I also know people who have submitted their work to PBS, which has given their films greater exposure. However, for me personally, it's not simply to get my work out there, and therefore, I haven't often uploaded my work online. I find that I have better access to my niche target audience when showing my work at museums and universities in comparison to letting it be seen by the general public or on Youtube.
Generally, I want to present my films in a place where I am present to discuss it, especially to groups of people drawn to the topic of my films. One situation where I would readily upload my work to a website would be if I know that the visitors to that site will be part of my niche audience. A good example would be the website of a large museum that I admire and where I physically showcase my work.
StageYou: As you have filmed in several international locations, could you describe how advancements in technology have eased the travelling that is necessary to do your work?
ROBERT: When the subject matter or the people are in another place, there is only so much that you can read and research. You can build important relationships online through Skype so that when you do meet them in person, it becomes easier to continue as there has been groundwork already laid.
This I feel is important in any setting, but more so in the arts where the sense of trust between the filmmaker and the subject fosters a sense of openness and connection which allows the essence of the subject to show more freely – leading to much better quality work. This can make a bigger impact at the end of the day. The secret for my films and what I consider a successful outcome is when the subject speaks from the heart and not from what's been rehearsed. This doesn't occur without some prior foundation of trust and comfort being established between my subject and myself.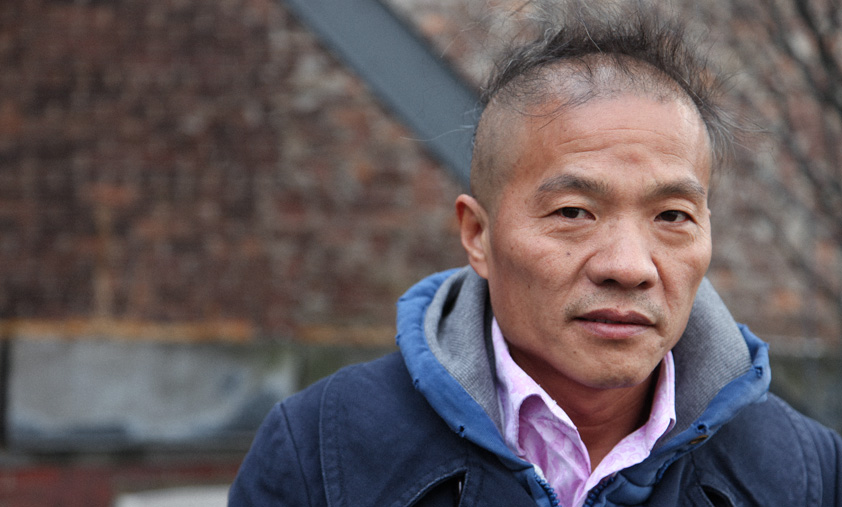 (Robert Adanto and cinematographer Lazar Bogdanović document Marta Jovanović's Motherhood performance in Belgrade for Born Just Now)
StageYou: What advice would you offer as a filmmaker to other young and budding filmmakers who may have reservations about capital when it comes to venturing further into this field?
ROBERT: That is a difficult question to answer in a simple way. Anyone can be introduced to the field of filmmaking, but as is the case with most subjects related to the arts, only a small percentage will find a home there. There will definitely be that small group of people who develop a passion – if not an obsession – for telling stories and these are the ones who are willing and likely to put in the time, dedication and hard work in order to transform their dream into reality. You can have all the access that technology offers, but without the right mindset, it will not be possible.
With minimal interest, you can learn and know something about it and maybe become a hobby filmmaker, but you will not be able to achieve mastery over that material by simply watching a tutorial. Mastery here would be making it at festivals or having work that is recognized in your niche worldwide. Devotion, time, and more importantly, persisting while making mistakes will be part of the journey to success. A pianist will not become a great concert pianist merely by watching a video on Youtube. In addition, having a mentor to talk to about what did and didn't work can help immensely in this process, and is something I can attest to as I have been fortunate enough to have one.
StageYou: With the ease there to create film today, we see a lot of sub-par films, documentaries, etc. on Youtube and other distribution channels. In this saturation, what steps can independent filmmakers take to raise their work to a higher level?
ROBERT: A couple of things come to mind. When using digital tools, following hashtags of the directors and filmmakers that you admire will lead you toward groups where like-minded people are talking about them – this is true for current films as well as for directors such as Stanley Kubrick and Alfred Hitchcock who are no longer alive but their work and new conversations about their work still continue to take place. Being in these circles helps you grow as an artist as well as increases the chances of finding mentors and other influential individuals.
The bigger festivals that often have grants in addition to functioning as a festival – such as the Tribeca Film Festival, Sundance, and the IDFA (International Documentary Film Festival Amsterdam) – now have programs that cater to the development of the next generation of filmmakers. For example, Sundance Collab is an online interactive learning and discussion platform where you can sometimes take part in discussions with top filmmakers talking about their new releases. The discussions are part of a library and one can review and examine past conversations to see what others talked about and in doing so, have a chance to learn from them.
I have had the privilege of meeting very successful people and learning from them – but I am a fanatic in the sense that I have also learned by myself through deeply studying people that I have never met. So for example, if you are at a stage that you know a director that you respect and are able to take part in an in-depth discussion about him, you may find yourself in circles of people of higher interest and influence in that area and over time, you might meet someone who knows this director.
The more you immerse yourself in the subject and get to a point that it positively affects the way that you think, you will expand your possibilities and start doing work or even picking up a camera and shooting your own stuff regardless of the price or quality of the equipment you have access to. On the other hand if you don't spend any time reading, studying and watching relevant films, then you won't have any access to that. Even though the material is available digitally, you have to give it time and allow it into your own consciousness as an actor, director or playwright.
I previously mentioned the story of the Chinese director Jia Zhangke who was denied access to the film academy. He spent a lot of time studying the great filmmakers through Youtube then writing the different shot list and perspectives of the camera. This study and research was a precursor to his success.
For those who are very serious about filmmaking as art, looking in to magazines such as 'Film Comment' and 'Sight and Sound' can assist and give insights. Although they do feature reviews about big blockbusters, they focus on both narrative and documentary films.
StageYou: Could you talk about your inspiration for one of your most interesting works or something that you really fell in love with?
ROBERT: Well, my latest film is called Born Just Now and it is a film that looks at the Belgrade based performance artist Marta Jovanovic.
I learned about her through a mutual friend of ours who was going to be curating Marta's first show in New York and also sent me an advance copy of the catalog and the essay she had written about Marta. After reading these essays, I knew that I wanted to make a film about this woman who is from the former Yugoslavia and had been touched by the break-up of this nation. It was also rich territory for me personally as I had not learned much about the Balkans in the past. I tend to seek topics that my audience does not know a great deal about as well.
Thereafter when I Skyped with her, I understood that I had a very interesting subject. From the way she carried herself and communicated, I realized that she was someone I wanted to work with and document. For the first time I knew that I wanted to do a feature-length film about a single individual whereas in all of my previous work, I had worked with groups of subjects – be it from China to Iran or here in the US.
StageYou: Is digitalization more a mindset rather than something external to achieving your goals?
ROBERT: I would class digitalization as a multiple pronged tool that you can get the world from but you have to really put yourself out there else it becomes akin to a bicycle that you have never ridden, sitting chained to a fence and you've never taken it anywhere.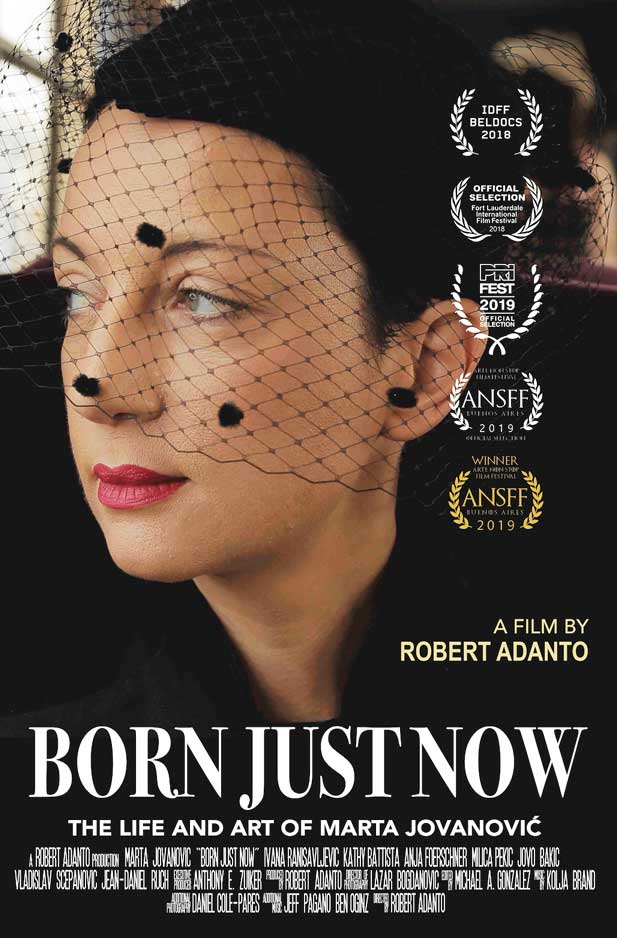 ("Born Just Now" movie poster)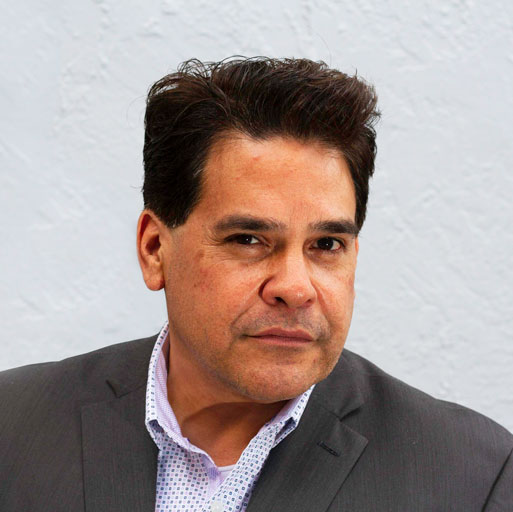 John Ason
A fellow of the Sundance Institute Documentary Program and classically-trained actor, Robert Adanto earned his MFA in Acting at New York University Tisch School of the Arts. His most recent film Born Just Now, which offers an intimate look at Marta Jovanović, a Belgrade-based artist struggling to cope with the violence that has ended an eight-year marriage, was awarded Best Documentary at the 2019 Arte Non-Stop International Film Festival in Buenos Aires, Argentina. Produced by Anthony E. Zuiker, the film made its world premiere at BELDOCS International Film Festival in the former Yugoslavia and has been an Official Selection at the Prishtina International and Fort Lauderdale International Film Festivals, respectively. Robert made his directorial debut with The Rising Tide (2008), a feature-length documentary exploring China's meteoric march towards the future through the words and works of some of the Middle Kingdom's most talented photographers and video artists, including Wang Qingsong, Cao Fei, Xu Zhen, Yang Yong, and Chen Qiulin. Shot in Beijing, Shanghai, Guangzhou, and Shenzhen in the summer of 2006, this unflinching and incisive study captures the confusion and ambiguity that characterize the new China. "An often surprising and thought-provoking documentary," wrote WICN's Mark Lynch, "The rest of us better make an effort to grasp what their work is about, or get out of the way. An "eye-opener" in every sense of the word, if you are an artist, curator or art teacher be sure to catch this film." Pearls on the Ocean Floor, his second film, examines the lives and works of Iranian female artists living and working in and outside the Islamic Republic. It features interviews with art luminaries Shirin Neshat, Shadi Ghadirian, Parastou Forouhar and others, and captures the uncertainty of this momentous time in Iran's history. Pearls on the Ocean Floor was an Official Selection at the UK Iranian Film Festival in London, The Glasgow International Film Festival, and received the Bronze Palm Award for Best Documentary at the 2011 edition of the Mexico International Film Festival and the Spirit of Independents Award at the 2012 Fort Lauderdale International Film Festival. In 2014, he completed City of Memory, a film exploring Hurricane Katrina's impact on the lives of New Orleans' visual artists, including Deborah Luster and Tameka Norris. The New Orleans Film Society invited Mr. Adanto in August of 2015 to present City of Memory at the Ogden Museum of Southern Art, in association with The Rising, an exhibition commemorating the 10th anniversary of Hurricane Katrina. Later that year, The F Word, Robert's documentary exploring radical "4th wave" feminist performance in Brooklyn, and feautuing Narcissister, Ann Hirsch and Leah Schrager, was presented as part of the Guerrilla Girls' Twin City Takeover in Minneapolis at the Walker Art Center and at Dallas Contemporary, in association with Black Sheep Feminism: The Art of Sexual Politics, an exhibition probing the work of four radical feminist artists active since the 1970s: Joan Semmel, Anita Steckel, Betty Tompkins and Cosey Fanni Tutti. Robert's films have enjoyed screenings at over 40 international film festivals and have been presented at the Smithsonian Institution's Hirshhorn Museum and Sculpture Garden in Washington D.C., the National Center for Contemporary Art in Moscow, The MFA Boston, LACMA, The Hammer Museum, Tel Aviv Museum of Art, and The National Museum of Australia in Canberra, amongst others. He is currently living in New York City where he is working on an animated non-fiction film with producers Laszlo Santa and Dirk Manthey
Filmography
The Rising Tide (2008); Pearls on the Ocean Floor (2010); City of Memory (2014); The F Word (2015); Born Just Now (2018).