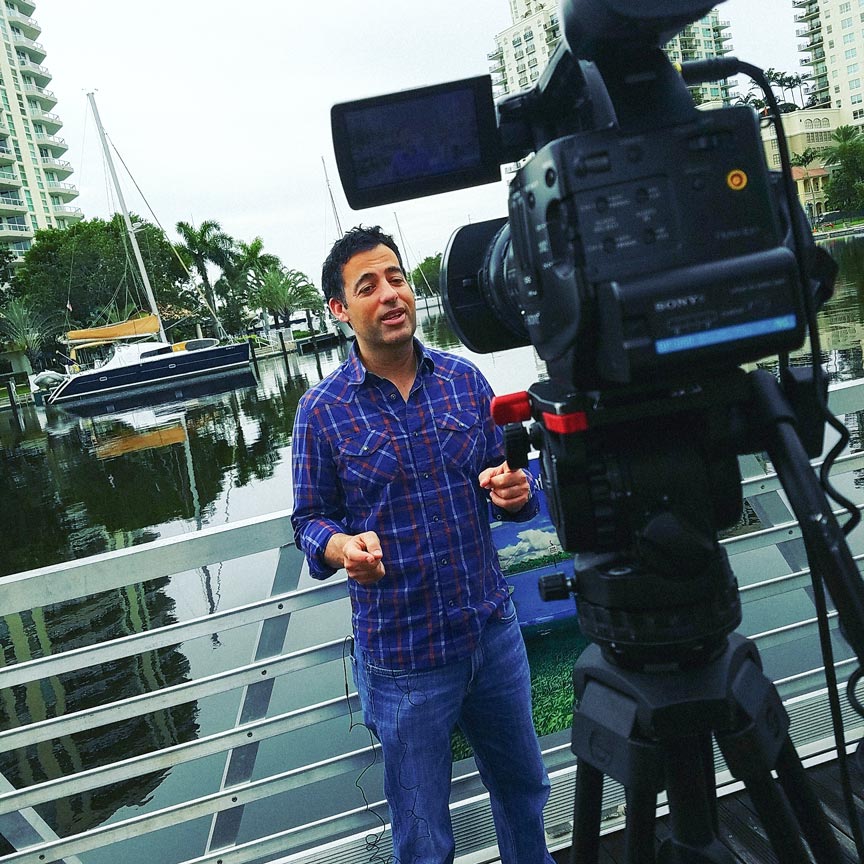 StageYou interviews Dave Aizer on the impact of digitalization on conventional TV and on the digital transformation of the coach
Dave Aizer is the Founder and President of Elite Media Coaching, a motivational speaker, an Amazon bestselling author and a television host. Dave has been a TV host for over 20 years and has hosted shows for CBS, Nickelodeon, The CW, FOX Sports Florida and more. His signature programs include "Slime Time Live" on Nickelodeon, "Inside South Florida" and​ "Morning Dose"​ on The CW South Florida, "Under The Lights: Florida High School Football Final" on FOX Sports, American Idol Online and more.
Dave is also an Executive Public Speaking and Media Coach. In this role, he empowers individuals and companies to become dynamic presenters across multiple platforms, including speeches, panels, TV shows, podcasts and social media videos. Recently, StageYou met Dave to better understand the role of a TV host, how digitalization is reshaping conventional TV, and the role of video in coaching programs.
StageYou: You're a host with over 20 years of experience on multiple networks and have interviewed several high profile celebrities. What does it take to be a great TV host?
Dave: To be a great host, you must have a good personality, energy, passion, and everlasting love to be a storyteller. TV hosts communicate with countless people. When the opportunity arises, they need to instantly deliver a dynamic and energetic performance. Depending on the show, you need to be curious about the world and ask thought-provoking questions. Ultimately, you need to love what you do. If you don't, it's very obvious on camera and to the audience.
Further, I like to build on these basics by tailoring each interview to the guest and subject matter. So if I interviewed an actor, the focus and questions would be different than when interviewing a politician. Over the years, I've had the pleasure of interviewing the likes of Will Smith, John Travolta, Kevin Hart, Halle Berry, Mark Wahlberg, Dwayne Johnson, Al Gore, Lebron James, Dan Marino and so many more.
For my interview with Al Gore, the focus was his views on global warming and climate change. Hence, I did a lot of research on the subject. I wanted to ask questions that other journalists wouldn't ask. Whereas, with my interview with Kevin Hart, I knew he was quick, witty, and hilarious. He'll give unique answers, so as an interviewer I needed to listen and focus on his answers to steer the conversation in the direction he wanted to take it. Those interviews are a challenge, but a ton of fun and I relish them.
While in LA, I was the online web host of American Idol for one season. This specific role was one that came about as digital technology became prevalent. I travelled to various cities, interviewed contestants and created content that was shared on the American Idol website. Each unique experience adds various dimensions to your personality as a host.
StageYou: Could you share with us the challenges of being a TV host? In particular, do you face a greater challenge when it's a live show compared to a pre-recorded show?
Dave: I'm a better host when it's a live show. I feel more energetic with the adrenaline rush knowing there's no room for mistakes when everyone is watching. As a media coach, I get many clients asking me how not to be nervous. My answer is always, to use your nervousness to your advantage! It gives you a natural energy boost. Rather than trying to block it, lean into it and use it to enlarge your presence.
Most importantly, as a host, my job is to make the guest comfortable. With a celebrity, it's easy because they're regularly in front of cameras. However, it's a challenge to interview someone not used to being in front of cameras. They're often nervous and uncomfortable. In those cases, I try to make them comfortable before we start recording. I go over what we'll be talking about and answer any questions they may have about where to look or what to do with their hands. What I've learned as a host is that the simplest gestures like listening attentively and smiling go a long way toward making guests comfortable during an interview.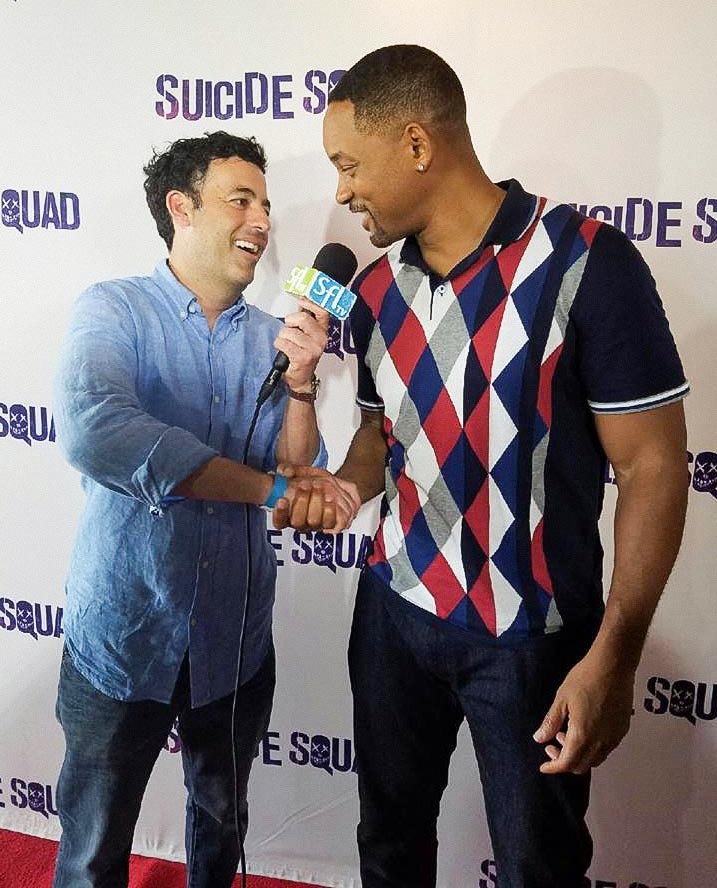 StageYou: You're also an active media coach and mentor. Could you share with us how you help your clients overcome their fear of public speaking?
Dave: Over the years, I've met CEO's, entrepreneurs, and several highly successful people, all deathly terrified at the idea of giving a speech or speaking on camera. Many people have severe anxiety about public speaking. As a coach, I work toward helping them overcome this anxiety and reach the point where they're excited to give a speech and can't wait to do it again. The approach I adopt is a performance-driven one. The people I coach perform multiple times in our coaching sessions and we watch those performances together to help them improve. It's a rewarding experience to see people overcome their fear of public speaking and the incredible change it brings about in their lives.
StageYou : You are a cancer survivor. As a person who has faced the ultimate fear of life , battled it and conquered it, there is no better person entitled to coach people on how to overcome fears.
Public speaking is one of the biggest fears many have but in the grand scheme of things, things could be much worse. The worst-case scenario in public speaking would be delivering a boring or ineffective speech. Even then, you can still go back to your family and everything will be fine. It's not life or death. Any time you come up short is a learning experience, until ultimately you'll master this skill, which can help you in so many ways. I truly wish to help people, and bring happiness and prosperity to their lives, because as a cancer survivor I was lucky to get a second chance at life. Hence, I want to do whatever I can to help people overcome their fears and give them joy by using whatever skills I possess.
StageYou: Your colourful career as a TV host intersects with your profession as a media coach which intersects with your journey as a cancer survivor. It is beautiful to observe how this intersection mandates you to help people overcome their fear of public speaking.
As a TV host and a Media Coach, how have you experienced digitalization in a time where digitalization is reshaping entire industries?
Dave: From a traditional television perspective, digitalization hasn't been great. Viewership is down, people aren't buying cable packages like they used to. Instead, they're getting much of their content digitally through social media, YouTube, and other avenues. Nevertheless, from a pure performance perspective, digitalization has been fantastic. You now have multiple avenues to share your message with the world. You can build your brand on the Internet with social media.
In the past, if you quit your job in television, your job prospects weren't great. However, today anyone with a phone can have a show on the Internet. All it takes is a smartphone to be a star on YouTube, Instagram, or any of the other countless digital platforms. Digitalization has created a plethora of opportunities for anyone who wants to put themselves out there online.
As a media coach, digitalization has been terrific. It has allowed me to do coaching sessions via video. I'm based in South Florida and I'm able to coach people in Canada, Los Angeles, and New York. I'm now creating an online curriculum for a global audience. Through this online curriculum of videos, anyone can learn my methodology to be a more dynamic communicator without ever meeting me.
StageYou: As a coach, you mentioned that a key digital tool that has assisted you is video. How do you see video being used in the future? Will it reshape your coaching practice?
Dave: Currently, I do both my one-on-one and corporate coaching sessions live. However, we actively incorporate video. We record people performing and then review it in real-time. This makes an immense difference in the coaching process. It's one thing for me to tell a person, "You're speaking too quickly" or "Here's how you can deliver that point more effectively." It's significantly more powerful and effective for them to see their performance, hear how they sound, and then make improvements instantly. To that point, I send people their videos after each session, which they can use to evaluate their performance.
Further, videos have allowed me to be more flexible and efficient in my coaching. I once had a client in Los Angeles who was auditioning to host a TV show in New York, whom I coached from Florida. The audition was to be done via video submission sent to the casting director. My client first sent me a video of their practice audition. I received the video via email, and later, when I had free time, I was able to share my feedback with the client. He then reshot the video and sent it to me. We repeated this cycle until we had the perfect audition video.
Thanks to digitalization, I'm able to coach anybody anywhere in the world. I don't have to be in the same room or even on a video conference with them. Just as with my client in Los Angeles, I can apply this process with clients all over the world. We can simply exchange files digitally until we achieve our desired results, thus overcoming logistical barriers and time zone constraints one would face in conducting one to one sessions in a classroom. Also both parties can engage in this process at times convenient to them. Digitalization enhances your capacities as a coach.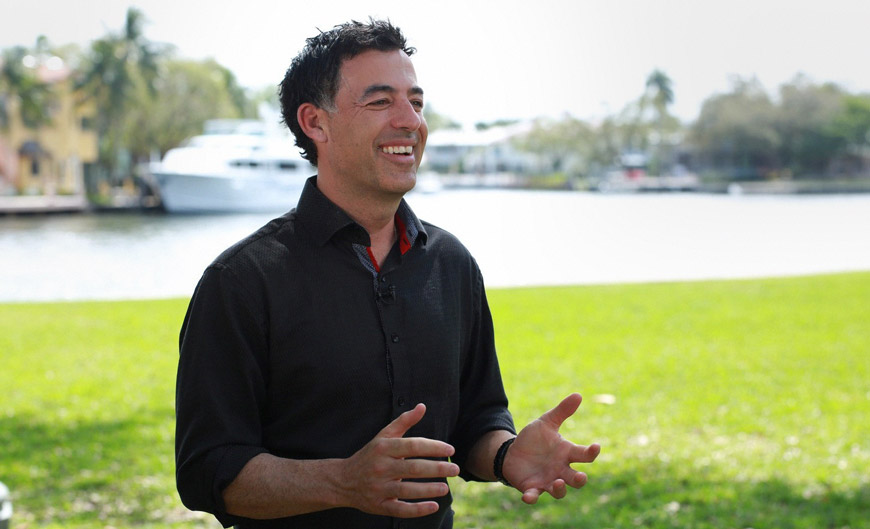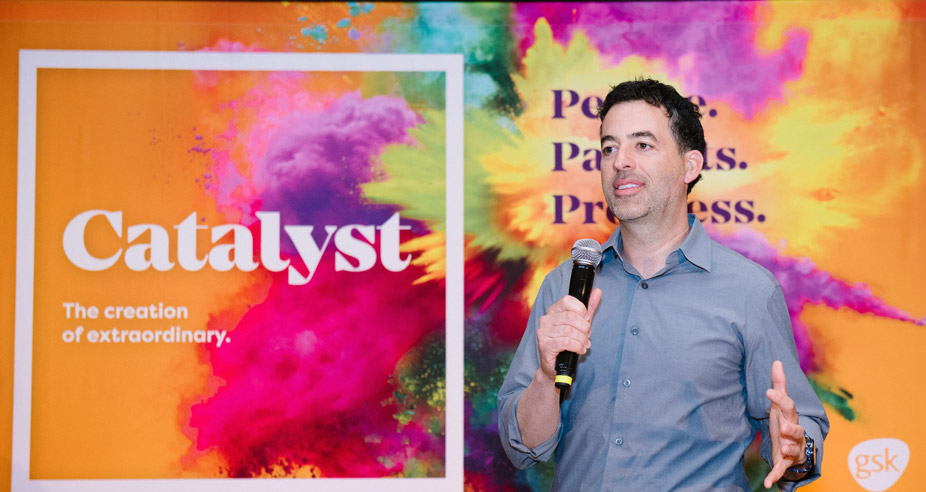 StageYou: In the context of digitalization, could you elaborate on your experience as the online web host of American Idol?
Dave: I traveled to Boston, Denver, Chicago, and Charlotte where producers were hosting auditions for American Idol. In my role, I approached the contestants as a reporter and asked them about themselves. Since it was American Idol, we also had fun by asking the contestant's trivia questions about America. We created different kinds of content, which was edited and then published on the American Idol website. This content was designed to complement the TV show. If people didn't want to wait for the latest episode but wanted to learn about upcoming contestants, they had an outlet to gain that information about their favorite show. That's what we provided digitally.
StageYou: You mentioned that due to video, you can share feedback as a coach with clients. Is it possible for American Idol to adopt a similar format where contestants would audition via video instead where contests such as American Idol can be hosted online?
Dave: Never thought of it that way. But it is an interesting idea! By allowing contestants to upload videos online without having to physically travel to auditions, it would open the show up to a larger pool of contestants. You could even have someone on stage singing a duet with another person via video conference. It opens up a myriad of avenues to create unique content. However, I feel a show like American Idol is best done on television in its current form with a live audience, akin to a live concert. In an alternate perspective, the online contest would be a different experience and a new model altogether.
StageYou: Conventional TV is being disrupted due to digitalization. It has also given more individuals the power to communicate their message to the world. What are your thoughts on this phenomenon? In your experience, is there a difference between content produced for TV and content on Social Media?
Dave: In the past, if you wanted to be a TV host, you had to get a job in conventional television broadcasting. Today, if you want to be a TV host, there's no reason for you to wait for a chance to magically appear. Instead, you should be building your brand on social media. You don't even need a fancy camera. Just take out your phone, put it on a tripod, and start talking! You will probably need a coach or mentor, because you do need a good amount of technique. For example, nobody wants to hear what you had for breakfast, unless you're a food blogger. There are limitless opportunities to build your brand. Identify the niche you're passionate about, and disseminate your message to a large audience.
If you follow these basic steps, it won't be long before a TV station wants to work with you. They'll look at your Instagram profile and see you have 20,000 followers and that your videos on YouTube have over 100,000 views. They'll be drawn to you because your viewers will become their viewers. You're automatically an invaluable asset to them just by hitting that record button and creating content! Whenever I meet anyone that tells me, "I want to be on TV!" my response is, "You need to become a content creator immediately!"
Then I ask them, "What differentiates you from the rest of the pack?" There are indeed countless opportunities today for you to build a brand and create content to get your message out there. However, it's a crowded space with countless others doing the same thing. Whether you choose to be a fashion blogger or a medical blogger or a tech blogger, there are hundreds of other people doing the same thing. So you need to identify what makes you different. By doing so, you can take your excitement and enthusiasm and refine it to bring out the best in you. Thereby, making you a destination for those hungry for fresh content.
Naturally, there are differences between the two types of content. Television content tends to be more polished. Whereas, social media content can be rawer. I believe that's fine and is, in fact, preferable to some people. They prefer to watch content by people simply walking and talking with their phones. Ultimately, good content is still good content irrespective of whether it's on TV or social media. With countless options at their fingertips, nobody is going to give even 20 seconds of their time if you don't instantly grab their attention.
StageYou: In conclusion, how do you believe digital tools can be utilized by individuals to amplify their message to become greater communicators?
Dave: You can create a message and it'll stand on its own. Afterward, you can do anything you wish with it. Whether it's sharing it on social media, uploading it onto YouTube, sending it via email, there's no shortage of ways to communicate with people. Prominent social media platforms give preference to video content.
For example, I could write a text post, create an image or publish a video. People will naturally be drawn toward the video and Facebook's algorithms would promote the video. Hence, video is naturally an effective tool to amplify your message as a communicator. It can be further amplified by adding subtitles. I always advise my clients to add subtitles because not everybody who sees your videos can listen to your them. As videos have a large audience, you must be as inclusive as possible.
Further, I'd reiterate to everyone that if they want to be on camera, there are countless options at your disposal. Don't wait for a TV station to call you. Start creating content and building your brand immediately. Accrue a large following and it won't be long before the TV stations give you a call.
In summary, digitalization is disrupting conventional TV. We're witnessing individuals increasingly consuming online content through digital platforms. Further, technology has given the power to any individual with a smartphone to become a host. In the past, such opportunities were limited to those in broadcast TV. However, today, this power has been democratized due to technology. Nevertheless, the old rules still apply. A great host must have a compelling personality, energy, passion, and undying love to be a storyteller. They must seize every opportunity to deliver a dynamic and energetic performance. They must also be curious about the world to ask thought-provoking questions. Finally, they must customize every interview based on the guest and subject matter to make them feel comfortable. Additionally, video is reshaping training programs. With advancements in technology, it's now possible for coaches to be anywhere in the world and support their clients.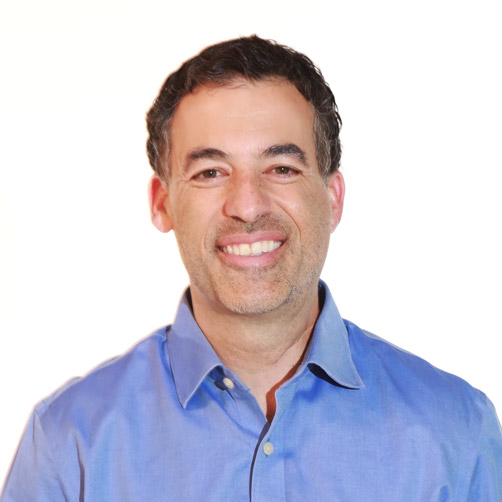 David Aizer
Dave Aizer is the Founder & Head Media Coach of Elite Media Coaching, an Emmy Award winning Television Host, an author and a Motivational Public Speaker. Dave has been a TV host and public speaker for over 20 years and has spent thousands of hours on camera and on stage, mastering his craft. He is an expert in dynamic communication and pours his knowledge into his media coaching. Dave coaches CEOs, business owners, entrepreneurs, individuals and entire companies, helping them replace their fears with confidence and purpose. Dave's areas of coaching include speeches, panels, TV interviews, social media videos and more. He covers everything from effective rehearsal techniques, to shaping the narrative, to energy, vocal inflection and body language. On television, Dave has hosted shows for The CW, CBS, Nickelodeon, Fox Sports and more. He is best known for hosting Nickelodeon's "Slime Time Live," one of the most successful shows in that network's history. Dave's various motivational speeches include, "Building Your Brand Through Media" and "The Journey From Struggle To Strength," his autobiographical recounting of surviving stage 3 melanoma. Additionally, Dave's written a book about his cancer journey called A Hypochondriac's Guide To Beating Cancer. To watch Dave in action, and learn more about him, head to www.daveaizer.com. And follow Dave on IG and FB at Dave Aizer.