As a young child, Avishan Bodjnoud growing up during the Iran-Iraq war, she saw the positive impact the United Nations had in stopping conflicts. However, the world we live in today is completely different. Technology has radically transformed every aspect of our life.In many cases It has brought us unprecedented prosperity.
Yet, also given us complex new challenges we must tackle if we are to keep our world safe. So how is the United Nations utilizing technology to stop conflicts in the 21st century? To find an answer to this burning question, StageYou met with Avishan.
StageYou: Could you give us an introduction about yourself and share with us the digital experiences that shaped your life?
Avishan: I grew up in Tehran during the 1980s. The decade began with Iran embroiled in a gruesome war. Thankfully, the war ended and we found peace. Before long Iran was also introduced to the internet. Growing up, I was uncertain of what I wanted to achieve in life. That completely changed on that fateful day when I stumbled into the world wide web.
Shortly thereafter I and a friend of mine had gotten a 56k dial-up modem. Together with her cousin, we set up an internet connection. We explored cyberspace, sharing files, sharing videos, and connected with people from all over the world. It was an extraordinary experience because following the war youth in Iran had minimal interactions with the rest of the world. We were famished for information about the rest of the world. Nevertheless, digitalization opened up the world to us. Before the internet, I had pen-pals all around the world. We exchanged letters and it increasingly fascinated me how people led their lives in foreign lands. Yet, it would take over a month for our letters to arrive. Today, the internet has allowed us to communicate with anyone anywhere.
Having learned to set up internet connections and design websites, I decided to study software engineering. Even then, I found the best way to learn was to go online. I would search for a function I wanted to add into my computer program and embed the code. That code could've been written by anybody, even a teenager in Japan! Iran and many other developing countries at the time didn't have an extensive library of books on coding, but digitalization allowed us to connect and collaborate, and even build applications.
It's also important to note that at the time, it was a privilege for a woman to have a laptop and learn to code. Technology changed my life. That's why I believe technology can empower women. Especially in societies where women have less opportunities. I've seen women using the internet to educate themselves. They use materials that are publicly available from the best universities in the world. All without spending a penny thanks to the internet.
Later, I worked in the civil servants pension fund. I saw how senior citizens would go take long strenuous journeys to Tehran to simply submit their paperwork. That's where I wrote a simple ASP code that enabled them to submit their paperwork online, and no longer did they have to take those tiring journeys to Tehran. This firsthand experience showed me how a few lines of code can impact the lives of millions.
I then pursued my masters in information technology at Amirkbir University of Technology (Tehran Polytechnic). During that time, I was also a volunteer at the UNDP country office in Tehran. After passing the United Nations National Competitive Recruitment Exam (NCRE), I formally joined the UN in 2010 and I have served in many roles till date . I currently serve as an information management officer at the UN where I use data analytics to support political decision making, performance evaluation and the Secretary-General's strategic reviews of peacekeeping missions

StageYou: Currently, you're utilizing data analytics for an important mandate of the UN, which is peacekeeping. Could you share with us how data analytics is being leveraged for peacekeeping and peace building?
Avishan: When we look at the data, we see an alarming increase in new forms of conflict. To be precise, civil wars. This has been attributed to the polarization of communities that we now see reflected even on social media. Hence, the UN Secretary-General is deeply concerned about increasing hate speech and misinformation on social media, and he has recently launched the United Nations Strategy and Plan of Action on Hate Speech. "Hateful and destructive views are enabled and amplified exponentially through digital technology, often targeting women, minorities, and the most vulnerable. Extremists gather online and radicalize new recruits. Over the past 75 years, hate speech has been a precursor to atrocity crimes, including genocide, from Rwanda to Bosnia to Cambodia.
More recently, it has been strongly linked with violence and killings in several regions of the world, including New Zealand and here in the United States. Governments and technology companies alike are struggling to prevent and respond to orchestrated online hate.
As new channels for hate speech are reaching wider audiences than ever at lightning speed, we all – the United Nations, governments, technology companies, educational institutions – need to step up our response. Ref: https://www.un.org/sg/en/content/sg/statement/2019-06-18/secretary-generals-remarks-the-launch-of-the-united-nations-strategy-and-plan-of-action-hate-speech-delivered
Today, we have 7.6 billion people on the planet. 4.3 billion people have access to the internet and 3.4 billion are active users of social media. These people serve as eyewitnesses of the conflicts within their communities. Not just in developing nations, but also in developed countries like the US and those in Europe.
All one needs to do is shoot a video and post it on Twitter. Next thing you know it's trending across the world! In the past, the only way for current affairs to get a global audience was through a news organization. Thanks to social media, everyone now has a global audience at their fingertips. So when these online conversations take a dangerous turn, peacekeepers need to be vigilant for any signs of a potential conflict and they need to consider these social media signals as early warnings.
StageYou: There is an abundance of data today due to social media. Are there any challenges you face when analyzing this data?
Avishan: Yes, before we analyze data, we must identify the biases regarding the use of social media
For data analysts, it's absolutely vital to be mindful of such demographics and gender norms. Other factors they need to consider are digital penetration and issues around social class.
So the data by itself may not give you a clear picture of what's happening unless you analyze it with the context of the society it's from. Furthermore, today you also have to verify the data to filter out fake news. Some companies employ blockchain for such purposes. Yet, the absolute truth is that data cannot exist in a vacuum. It needs to have context if we are to derive any information from it.
StageYou: In your opinion, how do you think we can address the flood of fake news we're seeing today across digital platforms? Is there a solution to this epidemic?
Avishan: Fake news is one of the biggest threats nations are grappling with today. Social media is used by political candidates all over the world. Not just to promote themselves to gain more votes but also to discuss issues with the local populace. However, we now have to deal with bots, which are constantly spamming information. Quite often we're seeing this information is absolutely untrue.
The best way to tackle this issue is by getting the information from multiple sources and triangulating the information collected. No one single source should become a vital source of information. Soon, I believe we will have a mechanism to rate information. Such a mechanism would allow anyone consuming the information to know how reliable it is. Nevertheless, today we utilize unsupervised machine learning algorithms such as topic modeling to comb through thousands of pages of content.
StageYou: With regards to peacekeeping efforts, has digitalization introduced innovative methods of communication? Do you see videos playing a more prominent role in the future of communication?
Avishan: Today, even the Secretary-General of the United Nations has a personal Twitter and Instagram account. Most peacekeeping missions maintain active Twitter accounts. They'll speak about issues within their communities and react to any issues that need attention. So we're witnessing an evolution of the role of public information officers.
Previously, such officers were solely tasked with preparing talking points for spokespersons. Today, they're tasked with responding to comments and interactions on social media. It's a strategic form of communication that occurs in real-time. Thus, it requires a completely new skill set. In fact, what we're witnessing is the digital transformation of work. Hence, the UN understands the need to employ digital technology in every capacity, including peacekeeping and peace building.
To that end, we've found that video is a powerful format for real-time communications. You can simply go to YouTube and watch the debates inside the UN General Assembly. By doing so, the goal is to use these videos to offer greater transparency.
Additionally, if we look at the trends, we're seeing a shift in social media from pictures to stories. Stories are images and short videos, which can only be viewed for 24 hours. You can find these on Instagram. Since they're not permanent we're seeing people share videos of things they may not have in the past. We're witnessing the evolution of social media with videos in the forefront.

StageYou: How has the shift from texts to videos on social media changed data analytics? Will we now see digital peacekeepers acting to prevent acts of violence?
Avishan: All these years, data analysts have been using methodologies to understand structured data like text. However, to analyze videos we require advanced algorithms that can classify things like different forms of violence. Another side of the coin is data privacy and data ethics. It's at the forefront of many discussions today. We need to make sure the data we collect doesn't put lives in danger. Take the case of a victim of human rights violence. You absolutely need to keep that data confidential to ensure that no lives are at risk. Sadly, data privacy is an area I believe we're lagging behind considerably.
Nevertheless, technology plays a crucial role in peacekeeping today. In 2015, there was a high-level report that explored technology and innovation in peacekeeping https://peacekeeping.un.org/sites/default/files/performance-peacekeeping_expert-panel-on-technology-and-innovation_report_2015.pdf. It explored the idea of what a peacekeeper should look like in the digital realm of the 21st century. The report sparked a lot of discussions between the UN and its member states. As a result we're now working towards forming a consensus regarding how we use technology in peacekeeping missions.
StageYou: In the private sector, we're seeing businesses embrace digitalization. However, some would argue that governments and humanitarian organizations are yet to catch up. How important is it for organizations to embrace digitalization?
Avishan: Yes that is the case. It's time that governments and humanitarian organizations catch-up. I believe digitalization has given humanitarian organizations the power to supercharge their aid efforts. Take crowdsourcing as an example. It has immensely supported humanitarian aid workers during disaster relief efforts. If a flood occurs, all a person needs to do is mark the location on a map where roads have been blocked and what areas have been affected. Satellite imagery is also becoming increasingly democratized. This allows humanitarian workers to get a clear understanding of the scale of a natural disaster.
So digitalization offers real-time information, which humanitarian aid workers can use to swiftly deliver aid and save lives. Hence, the Office of the Coordination of Humanitarian Efforts at the UN has a strong information management capacity. Similarly, UNHCR is also investing in leveraging data and information systems to fulfill its mandate to support refugees.
The UN has many active efforts to promote digitalization across member states. In 2019, António Guterres, Secretary-General of the UN, appointed a panel to explore digital cooperation and interdependence. Recently, their report was released to the public https://www.un.org/en/pdfs/DigitalCooperation-report-for%20web.pdf. It contains a series of recommendations to promote an inclusive digital society and economy.
The report also highlighted issues regarding human rights and security in the digital realm. Furthermore, if digitalization is to benefit all, then we must build global corporations that can be trusted with our digital data. The report concludes by stating that, through digital cooperation we can achieve the UN Sustainable Development Goals. In doing so, we can create a more inclusive digital economy for everyone on the planet.
StageYou: You're also actively involved with Singularity University. Could you share with us the mandate of the organization?
Avishan: In August 2016, I was appointed as an Impact Fellow of Singularity University. This is an entity in Silicon Valley. It's based out of the NASA Ames Research Park in Mountain View, California. Singularity University was founded by Peter Diamandis and Ray Kurzweil. It explores business ideas that utilize exponential technologies to impact and improve the lives of 1 billion people. Take solar power as an example. It's a technology, which can be used to deliver electricity to marginalized and remote communities. The mission of Singularity University is to use technology to solve some of the biggest challenges that we face today.
StageYou: As a United Nations stem role model, and global ambassador of Women in Analytics Is there anything you would like to share with young women who are curious about pursuing careers in computer science?
Avishan: It's important to be curious and creative. Don't let anyone destroy your creativity. We need to explore and look for new solutions. So don't simply accept the status quo. By all means, feel free to challenge it.
A woman has every right to be involved in technology. Both men and women have identical skill sets . So there's no excuse to exclude women from computer science, data science and Artificial Intelligence. Today, information is so readily available, you can learn from the best universities. There are also active online communities to learn about technology. So you can be inside your room, in your pajamas, and learn to write code.
Finally, when we talk about the future of AI, a grave concern is about AI being biased. So we need women involved in AI to tackle this bias. We must tackle this issue at an early stage to make sure the algorithms we create today aren't sexist or biased in any other way. If we are to ensure AI is safe in the future, we must ensure that these algorithms we write today are safe and free of any bias. We must allow women to be involved in designing this algorithms.
This interview was prepared or accomplished by Avishan Bodjnoud in her personal capacity. The opinions expressed in this article are the author's own and do not reflect the view of any Organization or entity.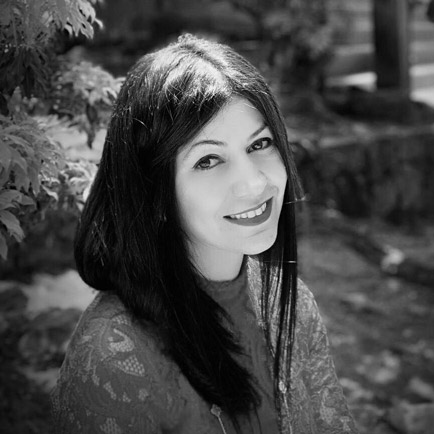 Stephen Garbe
Growing up in Tehran during the Iran-Iraq war gave Avishan a front row seat to witness the positive impact of United Nations (UN) Security Council resolution S/RES/598 which called for an immediate ceasefire and thus injected hope into the lives of so many of her loved ones. The words of that resolution became engraved in her heart and she decided then to dedicate herself to supporting the Mecca of peace — the UN.
By freeing her from the constraints of physical borders and political divides, technology revealed itself to her as a powerful tool in shaping the future of our civilization. She knew that it would play an integral role in her career.
After studying software engineering and obtaining a master's degree in Information Technology Management from Amirkabir University of Technology (Tehran Polytechnic), she decided to follow her childhood dream by embarking on a career at the UN. She has joined the UN after she successfully passed the UN National Competitive Recruitment Examination in 2008. She has worked as an Information Management Officer and data analyst at the UN Department of Safety and Security as well as the UN Departments of Political and Peace-building Affairs and Peace Operations, leveraging data to support UN peacekeeping missions in Haiti, South Sudan, Democratic Republic of Congo and other territories in conflict, she currently lead data and analytics team to support the UN Secretary-General's Independent Reviews of Peacekeeping.
She holds a second master's degree in Middle Eastern Studies from The Graduate Center, CUNY – The City University of New York. She has been an Impact Fellow (2016) at Silicon Valley's Singularity University, and a STEM role model at the UN promoting girls and women to pursue a career in data science. She is currently acting as the Global Ambassador of Women in Analytics (WIA).